In Memory
Stephanie McLane (Goodrich) VIEW PROFILE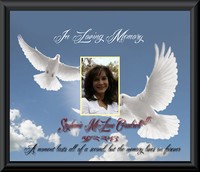 Stephanie Michele Goodrich, 41, of Poplar Bluff, Mo., passed away Saturday, December 14, 2013, in New Madrid County.
Ms. Goodrich was born May 15, 1972, in Poplar Bluff. She was of the Christian faith. She was a registered nurse at Poplar Bluff Regional Medical Center. She enjoyed her family, cooking, reading and riding horses. She also loved her dog and music.
Survivors include two sons, Brian and Austin Goodrich; her parents, Mike McLane and Janet Li and her husband, Dr. Kenneth Li; her grandparents, JP and Mary McLane; one brother, Lance Michael McLane and wife, Ashley; two stepbrothers, Jacob and Duke Li; one stepsister, McKenna Li; three nieces, Caitlyn, Jaci and Quincy; and two nephews, Statham and Silas McLane.
Visitation will begin at 5 p.m. Tuesday, December 17, 2013, at Fowler-Sullivan Funeral Home in Poplar Bluff. Funeral services will be held at 10 a.m. Wednesday, December 18, 2013, in the funeral home chapel, with Bishop Kent Miller officiating. Burial will be in City Cemetery.
Donations may be made to Hazelden, P.O. Box 11, Center City, Mn. 55012, a non-profit mental health and alcohol abuse center.
---
"A moment lasts all of a second, but the memory lives on forever"
Click here to see Stephanie's last Profile entry.