In Memory
John Lazalier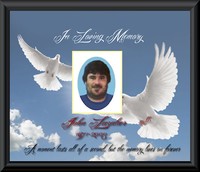 John David Lazalier, Jr., 36, of Poplar Bluff, died Saturday, Feb. 2, 2008 at his residence.
Mr. Lazalier was born Nov. 3, 1971, in Poplar Bluff. Before becoming disabled, Mr. Lazalier and his late father John D. Lazalier, Sr., owned and operated Butler County Trash Service. He enjoyed hanging out with his friends and watching sports.
Survivors include his mother, Carol (Engelhard) Lazalier, of Poplar Bluff; five sisters, Karee Lynn Rice, of Annapolis, Mo., Karla Lee Quigley, Kelly Laine Mullins and Karol LeAnn Williams, all of Poplar Bluff and Kathy Lori Hughes, of Nashville, Tenn.; and several nieces and nephews.
---
"A moment lasts all of a second, but the memory lives on forever"