In Memory
William Hadley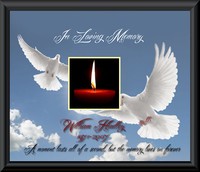 On Tuesday, April 3, 2007, William Joseph Hadley, 36, of Poplar Bluff went home to be with the Lord. William was born March 1, 1971, raised, and schooled in Poplar Bluff, graduating from PBHS in 1990. He was a member of the First Presbyterian Church where he was an Elder.
William was active in Boy Scouts achieving the rank of Life Scout. He loved to listen to both country and gospel music, travel, and work. He was employed at the Donut House, worked several years as a newspaper carrier for the DAR and USA Today, and most recently worked as a DJ for KOKS Radio. He met many people and had many friends.
William's maternal and paternal grandparents have preceded him in death.
Survivors include his wife, Geraldine Hadley, and children, David Hadley, Phillip Hadley, and Kenneth Hadley; his parents, William M. Hadley, Jr. and Kathleen Hadley of Poplar Bluff; and, twin sisters, Susan Hadley and Sharon Hadley of Springfield, MO. Other survivors are an aunt, Karen Pace, of Poplar Bluff; an uncle, Joseph Matty of Nashville, TN; and, several relatives by marriage.
---
"A moment lasts all of a second, but the memory lives on forever"