In Memory
Keva Davis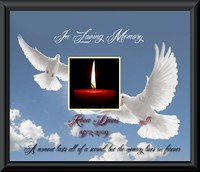 "A moment lasts all of a second, but the memory lives on forever"
---
Keva Latasha Davis, 36, of Poplar Bluff and Springfield died Friday, Jan. 16, 2009 at Poplar Bluff Regional Medical Center.
Ms. Davis was born Aug. 3, 1972 in Poplar Bluff. She was a member of Church of God, and worked in Telemarketing Communications. Ms. Davis enjoyed spending time with her children, cooking, playing jokes, watching movies and playing video games.
Survivors include her children: Kristian Danielle Davis and Terrace Jamar Draggs, Jr., both of Springfield; mother, Lula Bernice Davis, of Poplar Bluff: special friend and companion, Robert March of Poplar Bluff; sisters, Veronica Davis of Poplar Bluff and Marcie Davis, of Springfield; and brothers, Christopher Bernard Davis and Leonard Calvin Davis, both of Poplar Bluff.